Take the opportunity to completely design a sofa of your choice.
Become your own designer with our Design Yourself feature. Build the sofa of your dreams. Take a look at how custom you can design your own sofa.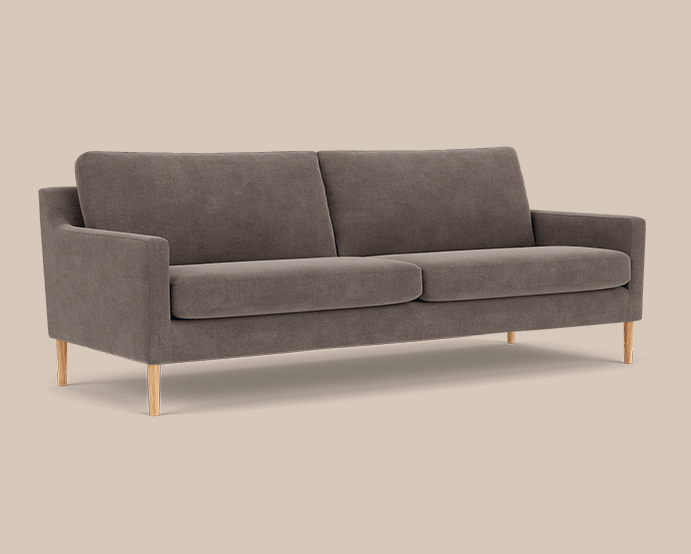 Choose your furniture
Choose textile and color
Choose legs
Complete your purchase
5 important things you need to know before you get started
Design Self-furniture costs 35% more than standard furniture
It takes 12 weeks before you receive your Design Self-order
Upon purchase, you pay 50% of the purchase price as a deposit
You can not cancel your Design Self-booking and your deposit is non- refundable
The last 50% of the price is automatically raised in connection with. delivery
EVERYTHING YOU NEED TO KNOW ABOUT DESIGN YOURSELF
What is Design Yourself?
Design Self must be understood quite a lot 1: 1. It is an extra service we have where you design your own furniture. You start by choosing furniture / model, and then you can then shuffle around between different textiles, colors and legs.
Design Even is for you who can not find the right combination of sofa and color in the standard range - or you who just want something that no one else has. And with approx. 130 different models and more than 50 different textiles and colors to choose from, there is plenty of opportunity to get a rather unique result.
Why does it take 12 weeks?
Yes, you see. A Design Yourself furniture is made exclusively for you. This means that it is not in stock - and thus it must first be made from scratch at our factory in Vietnam and then sent all the way to our main warehouse in Korsør (Psst! By the way, did you know that our shipping is CO2-neutral?) .
In return, you also get a piece of furniture that is handmade from scratch by skilled furniture craftsmen - and with a design that you have decided yourself. And we hope you find it worth the wait.
Why does it cost 35% extra?
Let's just talk straight out of the bag here; it is more expensive to produce a Design Self-furniture, and therefore the price is also a little higher. Fortunately, we can collect all Design Self orders once a week, thus keeping costs down so that it does not run out completely. And we will pass on that saving to you in the form of a maximum of 35% on top of the standard price.
In return, you can then also get the ultimate dream sofa. Or dream pouf. Or dream armchair. Or dream daybed. Or…. okay, you understand the point.
How is the payment for a Design Self-order made?
Because this is a special order, ie a product made only for you, the payment is a little different than with our standard items. When you complete your Design Yourself order, you pay to start with only 50% of the price. It acts as a kind of deposit, so we can be sure that the manufacture can be completed. The deposit is non-refundable. When your new Design Self-furniture is finished, it will be sent to our main warehouse and from there made ready for delivery. Here, the last 50% of the purchase price will automatically be deducted from your account - which of course is something we ask for permission for when you complete your order from the very beginning.
How does the payment take place if I pay in installments?
If you choose to pay in several installments, you will not be charged a deposit of 50% of the purchase price when ordering. The first of 10 installments will instead be charged 1 month after your order. Further information about loan terms can be found in the email that you receive from Santander right after you have completed your order.
Can I cancel my Design Self-order?
The short answer is; no. As this is a completely unique special order, you can unfortunately not cancel your Design Self-order (practice). And even if this should happen anyway, your deposit will still not be refunded. Orders purchased through Santander can also not be canceled. But why not really? Yes, that is. First of all… who the hell wants to cancel their ultimate dream sofa? Yes, we're just asking! And secondly because we simply can not just overlook the horror scenario where we are burning inside with 37 pink sofas that no one wants anyway (stress).
I find it difficult to judge the colors in Design Yourself. What do I do?
Granted. Seeing a piece of furniture on a screen will just never be like seeing it in real life. There are simply some details that are lost. And perhaps especially when it comes to Design Yourself, where you can choose between textiles that may not be found on other furniture in our standard range.
Fortunately, there is help to be had. For example, you can start by ordering 5 free fabric samples. That way, you can both see and feel if it is the right textile for you and your upcoming piece of furniture. Or you can go straight down to the nearest showroom and get help from our skilled staff. Here you can both test the model you have selected, and you can see some slightly larger pieces of fabric, which may give you a slightly better overall impression.